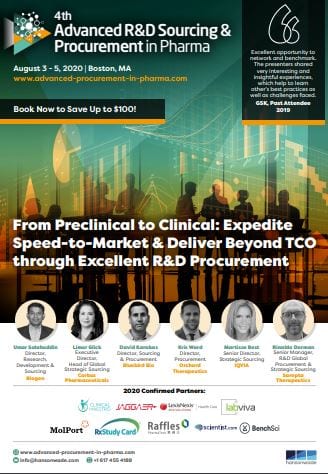 Whether you are brand new or a seasoned expert in R&D Sourcing and Procurement, the 4th annual summit is bringing industry colleagues together to share their new approaches and challenges and will help inspire you with new ideas after the 3-day summit.
There will be a greater focus on sourcing and vendor management during clinical phases, helping you to bridge the gap between preclinical-clinical, manage the complexity of suppliers and leverage new technologies to accelerate speed-to clinic and market.
Along side talks from Eli Lilly, Novartis, GSK and Bluebird bio are 2 morning workshops and a pre-conference deep dive.
Take a look at the full event guide of what will be discussed at the 4th annual meeting in Boston!