Missed out on our 3rd Advanced R&D Sourcing and Procurement in Pharma? Take a look of what were discussed.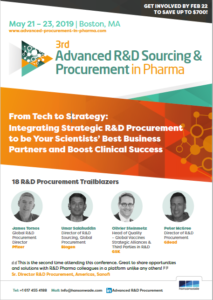 Whether you are brand new or a seasoned expert in R&D Sourcing and Procurement, the 3rd annual summit is bringing industry colleagues together to share their new approaches and challenges and will help inspire you with new ideas after the 3-day summit.
Procurement is no longer a transaction function. Strategic sourcing, category management and value engineering have become the core focus. Implementing R&D Procurement can be difficult, given the nature of the business and the uncertainty of drug development programs. However, if done right, this can add bring a lot of new opportunities and flexibility to supplier-partnership model, subsequently advancing scientific innovations to patients in a timely manner.
In addition to the 2-day plenary meeting encompassing real stories telling from the likes of GSK, Pfizer, bluebird bio, we have also designed a boot camp and 2 breakfast briefings for you to maximize your learning in 2019.
Take a look at the full event guide of what will be discussed at the 3rd annual meeting in Boston.